Utmerket tilstand
Ingen merker eller riper
Kjøpt i 2014
Rør kjøpt ny i november 2019/ mars 2020
4 x KT120s = 2 x 60W
Ny sett med driver rør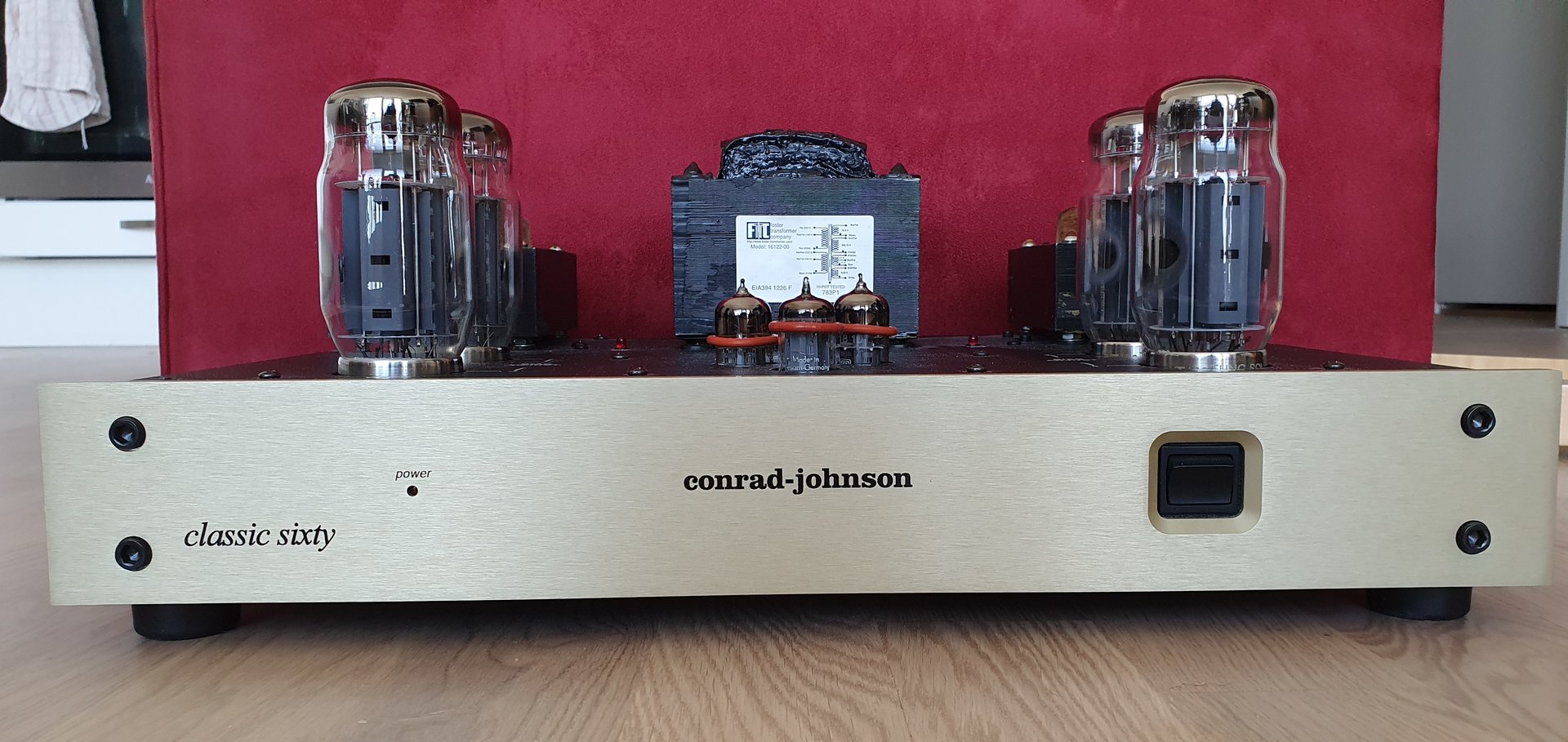 The Classic Sixty SE builds on the very high standard set by the Classic Sixty. The SE version enjoys a number of upgrades that enhance the already stunning performance of the Classic Sixty.
The Classic Sixty SE replaces the high quality polystyrene coupling caps (inverter to output tubes – one per each of the four output tubes) with conrad-johnson design (CJD) Teflon Capacitors. Critical resistors are upgraded to Vishay (input to grid, input tube grid load, input tube plate, input tube cathode and feedback). Output tubes are upgraded from EL34 to KT120. Output binding posts are upgraded to special Cardas binding posts.
The outcome of the engineering upgrades improves this amplifier's voice reproduction that is critical in jazz and vocals. The dimensionality, musicality, detail, and top to bottom harmonic are also an improvement making this a great value for high end audio.
Technical specs:
Power: 60 watts per channel RMS both channels driven into 4 ohms from 30Hz to 15KHz at not more than 1.5% total harmonic distortion or intermodulation distortion (can be re-connected internally for 8 or 16 ohm loads. 4 Ohm wiring is recommended for most loudspeakers.)
Sensitivity: 0.7 V RMS to rated power.
Frequency Response: 20Hz to 20 kHz +0/-.3 dB.
Hum and Noise: 96 dB below rated power output.
Phase: phase correct.
Input Impedance: 100 kOhms
Tube Complement: 1 x 6189 (12AU7), 2 x 6922, 4 x KT120.
Bias adjustment: built in LED indicators.
Dimensions: 13.375"D x 17.375"W x 6.625"H.
Net Weight: 41 lbs.
Originalemballasje

Ja
Orig. kvittering

Ja
Forsendelse

Avtales nærmere